Коммутатор Edge-core AS5712-54X отвечает требованиям высокой производительности, доступности и масштабирования сети корпоративных и облачных ЦОД. AS5712-54X - идеальный коммутатор для виртуализированнии в ЦОД с поддержкой функций туннелирования VXLAN и NVGRE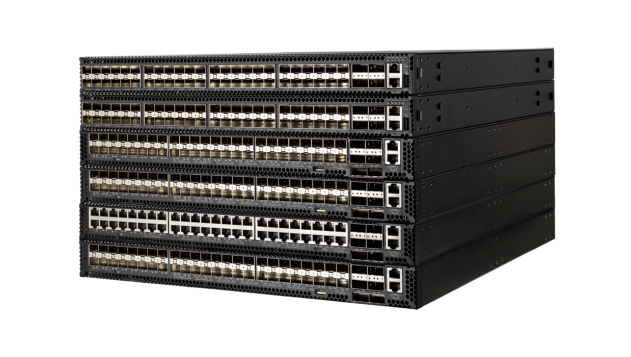 Ключевые особенности:
· Cost-effective, bare-metal switch infrastructure for data center fabric.
· 48 x SFP+ switch ports, supporting 10GbE (DAC, 10GBASE-SR/LR) or 1GbE (1000BASE-T/SX/LX).
· 6 x 40 QSFP switch ports, each supporting 40GbE (DAC, 40GBASE-SR4/LR4) or 4 x 10GbE (DAC or fiber breakout cable).
· Port Grouping to group 4 x 10G ports into one 40G port at the physical layer for maximum bandwidth utilization, and for 300m optical reach over MMF (Subject to NOS options).
· Full line-rate Layer 2 or Layer 3 forwarding of 720 Gbps.
· VXLAN and NVGRE tunneling support in hardware for network virtualization.
· Rack mountable in standard 19" racks. Mountable in 21" Open Rack with the Open Rack Switch Adapter.
· Supports hot/cold aisle with port-to-power and power-to-port airflow SKUs.
· All ports on front; PSUs, fan modules on rear.
· Hot-swappable, load sharing, redundant AC or -48 VDC PSUs. 12 VDC power input option.
· Hot swappable 4+1 redundant fan modules.
· Management: Ethernet and console RJ-45 ports; USB storage port.
· Hardware switch pre-loaded with Open Network Install Environment (ONIE) for automated loading of compatible open source and commerical NOS offerings. AS5712 SKU compatible with Open Network Linux (ONL), the open-source, OCP reference NOS.
· AS5712 compatible with Big Monitoring Fabric™ and Big Cloud Fabric™ SDN applications from Big Switch.
· AS5712 compatible with Cumulus® Linux® r2.5.1 and later version from Cumulus Networks®.
· AS5712 compatible with OpenSwitch the open-source NOS.
· AS5712 compatible with PicOS™ r2.6 and later version from Pica8 Inc.
· AS5712 compatible with SnapRoute FlexSwitch software.
· AS5712 compatible with Pluribus Netvisor ® OS (ONVL) version 2.5 and later from Pluribus Networks.
Информация для заказа
| | |
| --- | --- |
| Model name | Product description |
| 5712-54X-O-AC-F | AS5712-54X, 48-Port 10G SFP+ with 6x40G QSFP+ uplinks, ONIE software installer, Broadcom Trident II 720Gbps, Intel Atom C2538 CPU, PHY-Less/Re-timer-Less, dual 110-230VAC 400W PSUs and 5 Type D Fan Modules with port-to-power airflow, 2 front rack mounting ears included, 3-year Hardware Warranty |
| 5712-54X-O-AC-B | AS5712-54X, 48-Port 10G SFP+ with 6x40G QSFP+ uplinks, ONIE software installer, Broadcom Trident II 720Gbps, Intel Atom C2538 CPU, PHY-Less/Re-timer-Less, dual 110-230VAC 400W PSUs and 5 Type D Fan Modules with power-to-port airflow, 2 front rack mounting ears included, 3-year Hardware Warranty |
| 5712-54X-O-48V-F | AS5712-54X, 48-Port 10G SFP+ with 6x40G QSFP+ uplinks, ONIE software installer, Broadcom Trident II 720Gbps, Intel Atom C2538 CPU, PHY-Less/Re-timer-Less, dual -48VDC 400W PSUs and 5 Type D Fan Modules with port-to-power airflow, 2 front rack mounting ears included, 3-year Hardware Warranty |
| 5712-54X-O-48V-B | AS5712-54X, 48-Port 10G SFP+ with 6x40G QSFP+ uplinks, ONIE software installer, Broadcom Trident II 720Gbps, Intel Atom C2538 CPU, PHY-Less/Re-timer-Less, dual -48VDC 400W PSUs and 5 Type D Fan Modules with power-to-port airflow, 2 front rack mounting ears included, 3-year Hardware Warranty |